The Pérez Prado Pages | Pérez Prado Biography
---
Pérez Prado Discography
---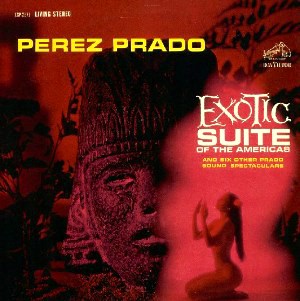 Recordings by Dámaso Pérez Prado, El Rey del Mambo.
Original country of first release as [noted]. In many cases other pressings also exist, as well as "white label" promos, etc.
Coming soon: Album track listings and cover art.

---
Table of Contents:
---
Most of the Pérez Prado catalogue was originally published by Peer International, now known as Peermusic, and is licensed through BMI. You can contact the publisher as follows:
Copyright Department
Peermusic
810 7th Avenue
New York, NY 10019-5818
USA


Telephone: (212) 265-3910
Fax: (212) 489-2465


e-mail: info@peermusic.com
---

Pérez Prado
Biography
---
The Pérez Prado Discography was compiled by Joseph Levy with additional help from:


Michael Macdonald-Ross (Non-US and Beny Moré LPs and films)
Pekka Salonen
Pepe Luhtala (78s)
John Wade (45s)
Agustine Velez (LPs and CDs)
Juan Pedro Rivera (LPs, CDs and films)
Jaime Jaramillo (Films)
Lennart Persson (European LPs and CDs)
Eric Chapman (European and other LPs)
Silvano Bracco (Italian LPs)
Hiroyoshi Kuwayama (Japanese LPs)
Peter Principle (Mexican LPs)
Cary Ginell (78s and 45s)
David Racine (Video Game)
Maria Lilienheim (Argentine LPs and 45s)
Jerry Priessen (LPs and 45s)
---
Spot any mistakes? Know of any albums not on this list? Have anything on my Want List for sale - or know where I can find it? Please . Thanks!
---