The Pérez Prado Pages | Biography | Discography Contents Page
---
Pérez Prado Discography:
Films & Videos
---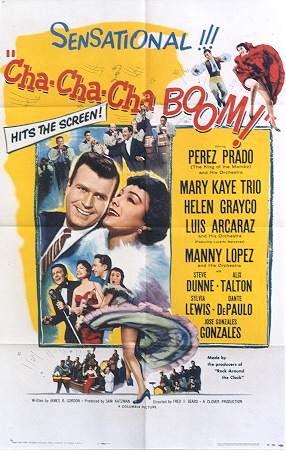 Films and videos which feature music or appearances by Dámaso Pérez Prado, El Rey del Mambo.
Original country of production or release as [noted].

---
Motion Pictures & Video
Personal Appearances

1950 - Perdida [Mexico]
1950 - Al son del Mambo [Mexico]
Features Resortes (Adalberto Martinez), one of the most famous mambo dancers in Mexico, plus Rita Montaner, the Dolly Sisters, one-armed singer Chucho Martínez Gil, Prado Orchestra singer Aurelio "Yeyo" Estrada and Pérez Prado, himself. Prado songs include "Ni Hablar," "El Ruletero," "Elsy Mambo," "Locas por el Mambo," "Nacimiento del Mambo," and "Yambó, Yambó."
1950 - Pecado de ser pobre [It's A Sin To Be Poor] [Mexico]
Bobby Capó is seen in the film singing with Pérez Prado, although the music is actually a dub from the studio orchestra conducted by Antonio Díaz Conde. Prado plays "Que Rico Mambo."
1951 - Serenata en Acapulco [Serenade in Acapulco] [Mexico]
1951 - Amor perdido [Lost Love] [Mexico]
1951 - Victimas de Pecado [Victims of Sin] [Mexico]
Juan Pedro Rivera writes: "This is another Mexican gangster movie starring actress Niñon Sevilla, Rita Montaner and Pérez Prado and his orchestra. Prado performed several mambos including "Mambo No. 8." You will see Niñon Sevilla dancing the mambo and Rita Montaner backed by [the] Perez Prado orchestra." Jaime Jaramillo adds, the movie "also features singers Pedro Vargas and Toña La Negra. Pérez Prado mambos include 'La Cocaleca' sung by Ninón, 'Changoo' with Rita Montaner, and a small combo with Prado at the piano backing Rita in 'Ay! José,' a song made very famous a few years by Graciela and the Machito Orchestra."
1951 - Del Can-Can al Mambo [From Can-Can to Mambo] [Mexico]
Pedro Vargas and Pérez Prado are cast as the leads in a film which features several Prado numbers including "Que Rico Mambo," "Mambo en Sax," "La Chula Linda," "Mambo Baklan," "Mambo Latino," and "Muchachita." It also features are Abel Salazar, Mexican comedian Joaquin Pardave, and Cuban dancer and actress Rosita Fornés (who is still acting in Cuba). Prado lip-syncs the Colombian song "La Llorona Loca" ["The Crazy Crying Woman"], although the actual singer is Tony Camargo. The plot is a comic fable of sorts which analogises the rise of the can-can in the 19th century to that of the mambo in the 20th.

Juan Pedro Rivera writes: "The great composer Agustin Lara, the beautiful dancer Ninón Sevilla, and the bullfighter Antonio Velazquez form a love triangle in this movie. You will notice that Rita Montaner is the singer and Niñon is the mimic. This is known in Mexico as doblaje. The musical arrangements are by Pérez Prado and you will see him playing the piano. The plot of this movie revolves around the theme of what happens to a country girl when she comes to the big city."

However, Jaime Jaramillo says of Ninón Sevilla, "Rita Montaner does not dub Ninón since she was a fairly decent singer and can be seen in other movies such as Carita de Cielo [Heavens Face] [This was her first movie which also features Beny Moré. - JJ] She dances and sings 'El Bobo de la Yuca' (loosely translated as 'The Marrying Fool') with Prado swinging at the piano, [as well as] 'Píntame de Colores,' or 'Paint Me With Colors,' and 'La Cocaleca.' " Perdida also includes performances by Pedro Vargas and Trio Los Panchos with Hernando Aviles, who sing the movie's theme song.

1952 - Salón de Baile [Dance Hall] [Mexico]
Juan Pedro Rivera writes: "This movie is another gangster Mexican movie. You will have the opportunity to see the performances of many artists including Fernando Fernandez singing with the band of Prado and several mambos played by Prado. Also, you will see the performances of Gonzalo Curiel's band."

Jaime Jaramillo mentions that the movie features "star Meche Barba who dances lustly the mambo 'Látigo' ['The Whip'], while Pérez Prado holds and places a whip around Meche. Other mambos by Prado include 'Dancing,' 'Furufufo,' 'Mambo Universitario,' 'Mambo Politécnico,' 'Lupita' and 'Broadway Mambo.' "

1952 - Perez Prado and His Orchestra [US]
Writing in the Internet Movie Database, Les Adams says, "One of the earliest American-produced films featuring Perez Prado... This one also has singer Allen Cole, the Pepper Sisters and the Dorothy Dorben Adorables as fillers."
1954 - Sindicato de telemirones [Mexico]
1954 - De ranchero a empresario [Mexico]
1954 - Huespedes Famosos [Mexico]
1954 - The Spike Jones Show [US]
Prado's first US television appearance on May 1, 1954, was a 10-minute segment on the Spike Jones television show. Prado and his orchestra play two numbers, including one in which Jones challanges him to a battle of the bands. Released as a VHS (NTSC format) home video in 1991 under the title A Musical Wreck-We-Um!, but now out of print. Watch a clip from the show here.
1955 - Underwater [US]
Originally titled The Big Rainbow, this film was produced by Howard Hughes and stars Jane Russell and Gilbert Roland.  Prado appears with a small combo and plays "Cherry Pink And Apple Blossom White" and "Maria Elena." Out of print on home video.
1956 - Cha-Cha-Cha Boom! [US]
This movie was Columbia Pictures's attempt to cash in on the cha-cha craze and featured Prado, Luis Arcaraz, Helen Grayco (then married to Spike Jones), and the Mary Kaye Trio. It has never been officially released on home video, but a copy (apparently made from a television broadcast) is available on DVD from The Video Beat.
1958 - The Ed Sullivan Show [US]
On August 17, 1958, Prado made an appearance on this popular American variety show, which was also known as The Toast of the Town.
1958 - Locos por la televisión [Crazy For Television] [Mexico]
1958 - Música y dinero [Music and Money] [Mexico]
1958 - Locura musical [Musical Madness] [Mexico]
1964 - Premier Orfeon [Mexico]
1965 - El Dengue del Amor [Dance of Love] [Mexico]
A musical comedy which introduces the Dengue, Prado's latest dance, and stars Prado himself along with Resortes (Adalberto Martinez), Rogelio Guerra, Julisa, Pompín Iglesias and Chavelo, who now hosts a children's show on Mexican television. It includes a version of "Patricia" with lyrics added.
1966 - Desnudarse y morir [Get Naked And Die] [Mexico]
Includes Prado's arragement of "Guantanamera." Prado also plays the role of a gangster named "Nick" in this movie.
1974 - Tivoli [Mexico]
Though uncredited, correspondent Victor Sologaistoa writes, "Pérez Prado makes a personal appearence, and even has a very short dialogue" in this film by Alberto Isaac.
1980 - A fuego lento [Slow Fire] [Mexico]
A surreal and often disturbing film with Resortes (Adalberto Martinez), Maria Victoria, Maria Luisa Landin, Las Dolly Sisters, Oscar Chavez, Maria Safont, and Prado. Director Juan Ibáñez conjures up an El Topo-like vision of the Mexican gangster movie that becomes progressively more violent. Prado makes a few brief appearances, as well as being credited with the musical score.
19?? - The Great American Bands [US]
Juan Pedro Rivera notes that in this video you see the real Prado and his Mexican Orchestra. Prado, himself, introduces all of the numbers.
1994 - La Hora Azul--Pérez Prado En El Recuerdo (Victor VIVP-56) [Japan]
A compilation of appearances from the 1960's on the Mexican television show La Hora Azul (The Blue Hour). This 47 minute video features Prado performing 22 numbers including "Cerezo Rosa," "Mambo No. 8," "Que Rico Mambo," "La Virgen de la Macarena," and more. Released on VHS Video and LaserDisc (NTSC format), but currently out of print.
1997 - Roots Of Rhythm (New Video 94353) [US]
Sub-titled "A Worldwide Celebration Of Latin Music From Africa To The Caribbean And America," this three-part series was produced for public television in the United States and was originally titled Routes of Rhythm. Hosted by Harry Belafonte, it traces the remarkable rise of Latin music to worldwide popularity and includes footage of Prado. A VHS home video (NTSC format) is available from Descarga.
199? - Historia Del Son (Caribe Video 001)
A one hour documentary which includes footage of Prado. Available from Descarga.

Film Scores

1949 - Coqueta [Coquette] [Mexico]
Jaime Jaramillo mentions that this is the first movie where Pérez Prado's name appears in the credits. It stars Ninón Sevilla, composer Agustín Lara and features tropical singing numbers by Kiko Mendive.
1950 - Pobre Corazón [Mexico]
Juan Pedro Rivera notes that this is a story about two pair of lovers and their struggle to live a happy life. Pérez Prado was the musical arranger for this film, his orchestra performs all the mambos, but Prado himself does not appear in it. The cast features Jorge Mistral as the "Piano Player" and includes Pedro Vargas, Tito Junco, Lilia Prado, and Guillermina Grin.
1950 - Mala Hembra [Mexico]
The soundtrack includes the song "Eres Exactamente" by Prado, with a vocal by Fernando Fernández.
1950 - Aventurera [Mexico]
Prado provided musical arrangements together with Antonio Díaz Conde. The film features Ninón Sevilla and Tito Junco with music by Los Panchos, Pedro Vargas, and Ana María González.
1950 - El Amor No Es Ciego [Love Is Not Blind] [Mexico]
The Luis Arcaraz orchestra plays "Qué rico mambo."
1950 - Simbad el Mareado [Mexico]
Juan Pedro Rivera reports that the score and theme music is by Pérez Prado. This movie was filmed in Acapulco, Mexico, and while the Prado Orchestra is featured in the movie, Prado himself does not appear, but directs the orchestra from behind a curtain. The Dolly Sisters dance two mambos "A Gozar El Mambo" and "Mambo Diva." In addition, the orchestra also plays "Gateando." Other stars include Vitola, Tin Tan, Marcelo, El enaño Tun Tun, and Juan Bruno Tarraza. In English, the title means "Simbad The Dizzy Sailor."
1951 - The Brave Bulls [US]
This may mark the first use of the song "Mambo No. 5" on a movie soudtrack.
1951 - Anna [Italy]
Prado wrote the title song (originally called "El Negron Zumbon") to this film which stars Silvana Magnano. The version on the soundtrack is actually by another band. A VHS (NTSC format) home video is available from Ronnie Cramer's Cult Film Site.
1954 - Cantando nace el amor [Mexico]
1954 - Mambo [Italy]
Katherine Dunham dances to Prado's music in this film which stars Silvana Magnano. Neither Prado nor his orchestra actually appear, however. A VHS (NTSC format) home video is available from Ronnie Cramer's Cult Film Site.
1956 - Bandido [US/Mexico]
1958 - The Perfect Furlough [US] Includes the song "Mambo Jambo" on the soundtrack.
1960 - La Dolce Vita [Italy/France]
The Prado hits "Patricia" and "Why Wait" are included in Nino Rota's score for the film by Federico Fellini.
1964 - Kiss Me, Stupid
The soundtrack includes "Zelda's Theme" by Prado.
1983 - El sexo de los pobres [Mexico]
1989 - Santa sangré [Mexico/Italy]
Alejandro Jodorowsky's mystical film includes the songs "Caballo Negro," "Lupita," "Mambo No. 8," and "Concierto Para Bongo" by Prado. However, the soundtrack album only features original music composed for the film by Simon Boswell.
1989 - Parents
"Cherry Pink & Apple Blossom White" is included on the soundtrack of this cult horror film.
1993 - Dollar Mambo [France/Panama]
The soundtrack features the Prado songs "Mambo No. 5," "Mambo No. 8," "José," "Llavando a la Luna," and "Silbando Mambo."
1993 - Kika
The soundtrack includes "Guaglione," "Mama Yo Quiero," and "Concierto Para Bongo."
1994 - Ed Wood [US]
The soundtrack includes "Kuba Mambo."
1994 - Guinness Ale, Anticipation [Ireland, UK]
"Guaglione" is used as the background music in this popular television commercial. The title of the ad, "Anticipation," refers to the time it takes for a pint of Guinness to be poured. The guy dancing round the pint is Joe McKinney. Watch it now on the MetaCafe.
1995 - The Perez Family [US]
The soundtrack includes "Mambo No. 5."
1995 - My Family [US]
Also known as:

Mi Familia
East L.A. (UK video title)
Cafe con Leche

The soundtrack includes "Qué Rico El Mambo."
1997 - Mean Guns [US]
Includes Prado's song "José" on the soundtrack.
1998 - Primary Colors (Universal/MCA) [US]
Includes "Silbando Mambo" by Prado.
1999 - Office Space [US]
The soundtrack includes "Mambo No. 8."
1999-2001 - Real Sex [US]
"Patricia" is used as the opening and closing theme on this HBO television series.

Miscellaneous

1993 - The Latin Beat: A Short History of Caribbean, Cuban and Latin American Popular Music in the United States.
This was a symposium conducted by New York-based musicologist Henry Medina as part of the Americas Film Festival in Washington, DC, and Santa Monica, CA, in October and November, 1993. It featured extremely rare footage of Prado, among others.
1997 - Yo Soy, del Son a la Salsa [Who I Am, From Son to Salsa]
A documentary by Rigoberto López billed as "the most complete film created within the Caribbean musical expression." and is decribed as revealing images and information about "Damaso Pérez Prado... and other outstanding musicians who have made a major contribution to the history of Caribbean music."
---
---
The Pérez Prado Discography was compiled by Joseph Levy with additional help from:


Michael Macdonald-Ross (Non-US and Beny Moré LPs and films)
Pekka Salonen
Pepe Luhtala (78s)
John Wade (45s)
Agustine Velez (LPs and CDs)
Juan Pedro Rivera (LPs, CDs and films)
Jaime Jaramillo (Films)
Lennart Persson (European LPs and CDs)
Eric Chapman (European and other LPs)
Silvano Bracco (Italian LPs)
Hiroyoshi Kuwayama (Japanese LPs)
Peter Principle (Mexican LPs)
Cary Ginell (78s and 45s)
David Racine (Video Game)
Maria Lilienheim (Argentine LPs and 45s)
Jerry Priessen (LPs and 45s)
---
Last Revision: 18 February 2010
---
Spot any mistakes? Know of any albums not on this list? Have anything on my Want List for sale - or know where I can find it? Please . Thanks!
---