The Pérez Prado Pages | Biography | Discography Contents Page
---
Pérez Prado Discography:
Miscellaneous Items
---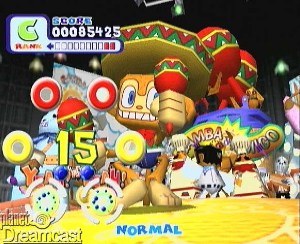 Miscellaneous items relating to the music of Dámaso Pérez Prado, El Rey del Mambo.
Original country of production or release as [noted].
Click on title links for full illustration.


---
Sheet Music

1952 - Mambo No. 5
1952 - Bongo Bongo
1953 - Mambo Jambo
1956 - <!A HREF="prez_sm_patricia.htm">Patricia (Illustration Coming Soon!)
1958 - <!A HREF="prez_sm_songbook.htm">Perez Prado Songbook (Illustration Coming Soon!)

Publicity Photos

1956 - <!A HREF="prez_ph_1.htm">RCA Victor (Illustration Coming Soon!)
1967 - Press Photo
Prado's standard press release photo from the mid-1960s.

Movie Memorabilia

1956 - Underwater Lobby Poster
1956 - Cha-Cha-Cha Boom! Broadside
1965 - El Dengue del Amor Lobby Poster

Gumball Charms

1958 - "Paris" by Perez Prado
Miniature records in the form of 7/8-inch diameter plastic charms were used as prizes in gumball machines in the 1950s. These items bear the recording label logo, song title, and recording artist's name.

Video Game

2000 - Samba De Amigo (Sega Dreamcast) [Japan, US]
Includes Prado's "Al Compas del Mambo" as part of the game.

Ringtones

2000 - Guaglione
2000 - Mambo No. 5
2000 - Patricia
Many mobile phones can be programmed with popular tunes. The Prado songs above are commonly available from services which provide them.
---
---
The Pérez Prado Discography was compiled by Joseph Levy with additional help from:


Michael Macdonald-Ross (Non-US and Beny Moré LPs and films)
Pekka Salonen
Pepe Luhtala (78s)
John Wade (45s)
Agustine Velez (LPs and CDs)
Juan Pedro Rivera (LPs, CDs and films)
Jaime Jaramillo (Films)
Lennart Persson (European LPs and CDs)
Eric Chapman (European and other LPs)
Silvano Bracco (Italian LPs)
Hiroyoshi Kuwayama (Japanese LPs)
Peter Principle (Mexican LPs)
Cary Ginell (78s and 45s)
David Racine (Video Game)
Maria Lilienheim (Argentine LPs and 45s)
Jerry Priessen (LPs and 45s)
---
Last Revision: 27 September 2009
---
Spot any mistakes? Know of any albums not on this list? Have anything on my Want List for sale - or know where I can find it? Please . Thanks!
---