The Pérez Prado Pages | Pérez Prado Discography
---
Pérez Prado and Mambomania
---
Part 2 of 4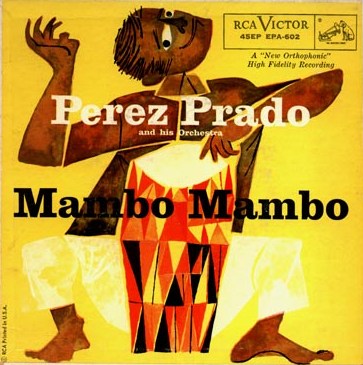 Mambo Mexicano
In 1947, Prado left Cuba for reasons that are not completely clear. In his unpublished biography of Prado, Michael Mcdonald-Ross quotes Rosendo Ruiz-Quevedo as saying that Prado's incorporation of North American jazz into the mambo was fiercely resisted by certain elements of the Cuban musical establishment. Especially enraged was Fernando Castro, the local agent of the Southern Music Publishing Company and Peer International which had a monopoly of Cuban music publishing at the time. Mcdonald-Ross wrote, "Castro denounced Prado by stating that he was adulterating Cuban music with jazz. As a result, Prado's arranging assignments ended and, unable to continue to work in Cuba, he left, eventually to settle in Mexico." When Prado left Cuba in 1947, he embarking on tours which took him first to Buenos Aires, Argentina, then to Mexico, Panama, Puerto Rico, and Venezuela. Mcdonald-Ross called these tours "unrewarding," but other accounts say that he won the adulation of teenage dance fans, causing traffic jams and near riots wherever he played.
In 1948, Prado settled in Mexico City which, along with Vera Cruz, was a popular destination for expatriate Cubans. There he formed his own band and established himself as a regular performer at the Club 1-2-3, reputedly a hang-out for the idle rich, becoming known as the "Glenn Miller of Mexico." [A couple of years later, during his first tour of the United States, he would be retitled the "Stan Kenton of Mexico."] Prado soon became a popular choice as musical director for many Mexican films and also became a movie actor (often playing himself), where he mugged and cavorted across the set in a zoot-suit.
Between 1947 and 1949, Prado recorded at least 24 songs in with vocalist and fellow Cuban Beny Moré (1919-1963) which were released as 78 rpm singles.[3] Moré arrived from Cuba with the Matamoros Trio and when the Trio returned home, he opted to stay in Mexico City to sing with Prado's orchestra. The songs that the orchestra recorded on RCA's Mexicana label proved to be so popular that in 1949 Prado signed a recording contract with RCA Victor, proper, for international release. His first recording for them was cut in Mexico City on December 12, 1949, and resulted in "Qué rico el mambo" and "Mambo No. 5" being released on two sides of a 78. This record, with its scorching brass and persuasive percussion, took the Americas by storm and the mambo craze was formally launched.[4]
In Dance Magazine, Robert Farris Thompson, Jr., wrote, "Mambo was soon the toast of Mexico City. To group after group, rich and poor, illiterate and collegiate, special Mambos were dedicated. One wave was for the working class: the 'Fireman Mambo,' the 'Filling Station Mambo,' the 'Newsboy Mambo,' etc. Another covered the educational scene: the 'Normal School Mambo,' the 'Mexico University Mambo,' and the 'Polytechnical Institute Mambo.' The sports world was saluted: ('[Mambo] del Futbol'); rich girls were whistled at ('La Nina Popoff'); the GIs of the 65th USA Infantry were given tribute ('Mambo del 65'). It was as if Harvard undergraduates, New York garment workers, [and] bank clerks everywhere turned on the radios to hear Sinatra singing jazzy songs about them. The Mexicans' response was sensational."
It was also common for dancers to act out spontaneous pantomimes to the theme of the song being played. For example, while dancing to the "Telephone Operator's Mambo," a woman might mimic working at a switchboard on her partner's chest, while dancers to the "Taxi Drivers Mambo" might imitate driving a cab.
In April, 1951, Newsweek reported that in Peru the dance had driven it's practitioners to such wild exuberance that Cardinal Juan Gualberto Guevara of Lima denied absolution to anyone who danced "al compas del mambo." That year, Perez Prado composed a song entitled "Al compas del mambo" in response.
Mambo Americano
Anglo listeners in New York and Southern California first heard Prado's singles on Latino radio stations. The songs soon crossed-over to mainstream pop broadcasts and in 1950 Prado scored moderate hits in the US with his early sides. While vacationing in Mexico, arranger Sonny Burke heard "Qué rico el mambo" and covered it as a single called "Mambo Jambo." It became a hit and Prado decided to profit from its success by launching his own tour of the US. He had well-disciplined and thoroughly rehearsed musicians and a simple formula - keep the tunes clean and punchy and include plenty of the shrill horns and bright percussion that the public loved.

His arrival was presaged by Barry Ulanov. Writing in the December, 1950, issue of Metronome, Ulanov declared, "The swingingest jazz band in this country right now ain't - it's in Mexico. And furthermore it isn't a jazz band; it blows mambo. Five trumpets, one trombone, four saxophones, five rhythm, one of which is the piano played by its leader, Perez Prado, it out jumps anything around..."

Prado's first appearance in the States was an engagement in New York City at the Puerto Rico Theater in the Bronx during April and May, 1951, where he was hired as a singer. Because of a dispute over rules with Musicians Union Local 802, he was required to perform as a solo act without his orchestra. By May, the union problems were resolved and he and the band played a one-night benefit for the Mexican Youth Center at the Ashland Auditorium in Chicago. In August, they played an eight city tour of the West Coast, including stops at the Zenda Ballroom in Los Angeles, Pasadena's Civic Auditorium, and Sweet's Ballroom in Oakland. Despite stiff admissions of (at the time) $1.25 - $1.85, each hall was packed with up to 3,500 "Mambonicks" and hundreds more were turned away. The bands at the shows were made up of American musicians, many of Latin origin, who were quickly recruited and rigorously rehearsed for only a few days beforehand. They all agreed later that Prado's musical book, much of it in a scrawled manuscript, gave them a tough time.

The tour continued back across the country to New York and then looped through the South on its return to Los Angeles. On the night of October 26, tragedy struck when the bus Prado and his band were riding in overturned near Ft. Worth, Texas, and Delia Romero, a singer and dancer, was killed. There were other serious injuries among the musicians, including Mongo Santamaria, who had just joined the Prado Orchestra. He suffered a broken hip and almost had to have both of his legs amputated. Prado, who sustained cuts and bruises, performed with the aid of crutches for the next few months.

In New York, his popularity grew over the years and Prado moved progressively downtown, first to the Palladium Ballroom on 53rd Street, then (in 1954) to an extended appearance at the chic Starlight Roof of Park Avenue's Waldof-Astoria Hotel.



---
3. It should be noted that Prado's first recordings were actually in Cuba as a member of the Orquesta Casino de la Playa, perhaps as early as 1944. There is also a report of a solo piano version of "Mambo No. 5" recorded and released in Cuba in 1945.
4. The only exceptions were Argentina and Brazil where the tango and samba were still the predominant dance forms, respectively.

---