The Rough Trade Pages | Rough Trade Discography
Carole Pope Solo Discography
---
A Brief History of Rough Trade
With Carole Pope and Kevan Staples
---
By Joseph Levy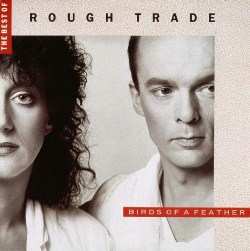 "Crude, lewd, rude and socially unacceptable," as well as uncannily literate and years ahead of their time, are apt descriptions for Carole Pope and Kevan Staples, the principals behind Toronto, Canada's Rough Trade.

Carole Pope was born outside of Manchester, England, on August 6, 1950.1 Her father, Jack, was a salesman and circus stilt walker, among other professions, and her mother, Celia, was a music hall performer. At age five, she immigrated with her parents to Montreal. A couple of years later the family moved to the Toronto area. She studied sculpture and worked as a commercial artist, but secretly harbored dreams of being a singer.

Kevan Staples was born January 23, 1950, in Toronto, Ontario. He came from a musical family in which everybody played an instrument or sang and, as a musician, was largely self-taught. His father was variously an actor, dancer, choreographer, and dress designer and his mother an interior designer.

Carole first met Kevan in 1968 at an audition for a band called Deva Loca Sideshow. Although that band never materialized, the two hit it off and formed a group called O, which was active in 1969-1970. In 1970, as O, the were featured in the film Osaka '70, which was produced in conjunction with the World's Fair in Osaka, Japan. About this experience, Kevan recalled, "The film chronicled the travels of a bus trip across Canada and we were in the part about Toronto. We played on top of the bus in front of city hall. It was Carole, myself and our dear friend Clive Smith playing piano. This was the group 'O.' Clive was from England where he had played with the Bonzo Dog Doo Dah Band and went to school with Pete Townshead and many other fab gear rave limey types. He is a terrific guy and now a very successful partner in an animation company called Nelvana."

In 1971, after O dissolved, they formed a duo called the Bullwhip Brothers. Kevan described these early years as "an acoustic act with an occasional electric piano. We both played guitar and would supplement with friends on piano percussion and later drums and bass. We very early on got a lot of work out of the gay and arts communities. We worked a lot of parties and art festivals. We didn't get into the bar scene until 1974."

The Bullwhip Brothers became Rough Trade in 1974, the name deriving from Carole's fascination with gay male iconography. Kevan said, "Rough Trade was a natural progression [stemming] from Carole's interest in all things sexual. Our first Rough Trade poster had the slogan 'repulsive yet fascinating' and I have always thought this was an apt description. We were actually more interested in theatre than pop culture and considered ourselves to be quite civilized despite the press thinking we were raunchy. It was more like Cole Porter than Iggy [Pop] or Lou Reed."

Carole put it this way: "Just when everyone was experiencing the dry heaves from '70s music, an underground phenomena breathed life into the stagnant music scene. Bands such as Rough Trade were breaking new musical ground. It was much more than music; it was an upheaval in art, fashion, and lifestyle. Rough Trade, love it or hate it, was responsible for blowing the scene wide open. We were involved in not just music, but themes for each performance. We became slaves of fashion. We were so repulsed by the slovenly look of most bands that we resolved to bring some semblance of theatre into our act. Some of the transformations we went through were 'I can't remember the chords and I can't remember the lyrics' (the frightened animal look), the ceré (polyester to you) jumpsuit (just an excuse to expose a lot of skin), and my favourite, the evil black bondage suit. We wore clothes by designers such as Vivian Westwood, Toronto's Marilyn Kiewiet and Sandy Stagg, and the orgasmic leathers of Claude Montana."

In July, 1976, Carole and three actresses, Suzette Couture, Dianne Lawrence and Brenda Donahue, appeared in a concert billed as the Torch Showcase, part of a summer program of music, theater, and video at A Space in Toronto. In reference to her choice of songs from the 1960s, Carole said, "I was a teenager then, and all those songs meant so much to me. I was going to do a couple of Leslie Gore and Brenda Lee numbers but changed my mind because they weren't obscure enough. Instead, [I did] The One Who Really Loves You, by Mary Wells, and You're My World, by Cilla Black."

Also in 1976, Rough Trade signed with the Umbrella label and had the distinction of being the first rock band to make a direct-to-disc album, appropriately titled Rough Trade Live! Drummer Rick Gratton, who played with the group for five years, said, "It was a tough one to record. We recorded about 30 sides each and picked the two best sides [to release]."

Continued Gratton, "For the direct-to-disc, we rehearsed for a few days before the actual recording. I was honored to be working with Jack Richardson as producer. He produced all those great Guess Who records (American Woman)! I remember him telling me that I couldn't hit the drums hard enough for him. Halfway thru the sessions, I ended up putting gaffer's tape on my hands to stop them from bleeding. The tricky part about the recording was that if you made a mistake at anytime, we would have to start from the top again. We were recording the spaces between each song because with the direct-to-disc process the lathe was cutting the record from top to bottom. We had a green and red light to look at to let us know when we could start and stop playing between each tune. The silence you hear between each song is actually us being recorded in silence as we waited for the green light to go on and then I would count time in the air by waiving my stix.

"If you check out the song 'Birds Of A Feather,' you'll notice that when Carole says 'A funky motel room,' you'll hear a slight hesitation in the hi-hat part. For years, Carole always sang 'A fucking motel room,' but the producer wanted her to tame down that one word. So, when we started recording she kept saying 'fucking motel room,' and we would have to start all over again. The track they kept has the hi-hat skip because I thought she still said "fucking motel room," and thought we would have to start all over again, but for some reason I just kept going. Sure enough she said what you hear on the final version.

"There were 30,000 numbered copies printed up. They each gave each of us a copy of the disc numbered 0000000. I gave my copy away years ago and found out my ex-friend sold it for $1,000."

In 1977, they experimented with live theater, writing and co-starring with 300-pound transvestite Divine [né Harris Glenn Milstead, star of many of John Waters's films] in a revue called Restless Underwear which was presented at Massey Hall. "It played for a while in Toronto and did really well." said Carole, "Then we took it to New York [in 1980], which wasn't my idea. People came expecting to see a Divine play, and that isn't what they got. There were a lot of leather queens there who got very upset and didn't like us, and there were a lot of new wave people who liked us and hated Divine." In fact, it was Vicky Wickham, the group's manager, who promoted the idea of taking Rough Trade to New York to coincide with the release of their LP Avoid Freud. They appeared at the Beacon Theater on Manhattan's Upper West Side on February 14, 1980--Valentine's Day. However, the event was advertised as "DIVINE in RESTLESS UNDERWEAR." Bernard Jay, Divine's manager, wrote that it was a gigantic disaster: "The theatre was full of gay men, all of whom had obviously come to see this new comedy... The sound system installed for the evening was totally inadequate and the audience couldn't't even hear the feeble attempts at sketches... They booed and hissed at poor Carol [sic] Pope and Rough Trade, who really didn't stand a chance for success the way the promoters had advertised the event. When, in the second part of the show, Divine performed his two songs with his male chorus line, he received a standing ovation, which only made things worse as [he] had nothing to follow it with--and the audience's frustration, quickly turning into anger, was therefore increased. The promoters were swamped in the intermission with demands to return ticket money. Many in the audience had left before the final set from Rough Trade. Divine fled back to his home..."

At this time, Kevan and Carole were also involved in other projects, including writing music for One Night Stand, a 1978 film made for Canadian television for which they were awarded a Genie (the annual awards presented by the Academy of Canadian Cinema & Television) for Best Film Score. In addition, they wrote and performed the song "Shakedown" for the soundtrack of William Friedkin's controversial 1980 movie Cruising, a detective thriller which takes place in New York City's gay underground.

Although they produced five additional albums (plus a greatest hits compilation) for the True North label, sales outside of Canada (where their albums consistently went gold or platinum and garnered four Juno awards) were never strong enough to allow them to break-out to the wider audience they sought. Beyond Canada, touring was limited to spot appearances in Australia, Europe, and New York. Rough Trade's last recordings were in 1986, at which time they embarked on the Deep Six in '86 farewell tour. The final show in Montreal was interrupted after a curtain burst into flames.

Though occasionally reunited after the dissolution of Rough Trade, Carole and Kevan's careers basically took separate paths. In the mid-1980's, the British group Pink Floyd disbanded, the result of artistic differences between principals Roger Waters and David Gilmour. Gilmour later tried to revive the group with the help of Bob Ezrin, co-producer of Floyd's The Wall, but without Waters. Although the project never came to fruition, Carole was approached to work with Gilmour on developing material for a proposed album. She explained, "The idea to contact me came from Bob Ezrin. It was January of 1987 and they were looking for somebody to rewrite a batch of Dave Gilmour's material, so I went over to England for a few weeks to lend assistance. Bob and David also asked me if I had any suggestions for concept albums in the Pink Floyd style. By the time I left England in February, they still couldn't decide what to do. They did have one song, though, which I thought was quite nice, though it never surfaced on [A Momentary] Lapse Of Reason [a Gilmour solo album]. It was a mid-tempo thing about Roger Waters, called 'Peace Be With You.' Seems strange that they didn't use it."

In 1989, Carole moved to Los Angeles and became active writing film and television soundtracks (including the 1992 low-budget thriller The Silencer), as well as recording an occasional solo album. Kevan remained in Toronto and spent five years working as a composer for Tambre Productions (1986-1991) and then with Rosnick/MacKinnon Productions (1991-1996), writing original music for television programs, theater, films, and commercials. In 1996, he formed his own company, Rhythm Division, with Jim Longo and continues to be active in these endeavors.

Rough Trade played a 25th Anniversary concert in Toronto in December, 1994, and a repeat performance at Music West in Vancouver. In December, 1995, Carole was back in the Toronto area to produce a cabaret at the Buddies In Bad Times Theatre called Quiet Please, There's A Bitter, Petulant Diva On Stage! In addition to herself, it featured MuchMusic VJ Sook-Yin Lee, plus Mary Margaret O'Hara and comediennes Maggie Cassella, Elvira Kurt and Diane Flacks. This resulted in Toronto's eye WEEKLY arts newspaper giving her the "Best Gloria Swanson-Type Comeback In Music" Award, in a tie with Patti Smith. She also performed in a stage version of Fritz Lang's Metropolis, directed by Sarah Stanley for Theatre Passe Muraille.

On June 27, 1996, she and Kevan both played at the Buddies In Bad Times Theatre during Toronto's Pride Week, sharing a bill with Diane Flacks. The event was billed as Carole Pope & A Bunch Of People She's Slept With and continued the following evening when Carole appeared with Elvira Kurt, Ashley MacIsaac, and Michelle Macadory. On September 20, Carole presented Tone Poems? at A Space Gallery. This was an evening of new works accompanied by Tim Welch on guitar, Steve Webster on bass and Dan Cornelius on drums. On April 30, 1997, she was seen performing with Dalbello [the artist formerly known as Lisa Dal Bello] at the Phoenix Concert Theatre in a benefit performance for the Fife House Foundation. And in August, she and Dalbello were on stage together at the San Diego (California) Gay Pride Day events. Her most recent film appearance was as the voice of the Teacher in the 1997 animated feature Pippi Longstocking.

On April 17, 1998, Carole and Kevan, accompanied by Tim Welch, presented A Retrospective Strip-Down at the Art Gallery of Ontario. It inaugurated a performance series called The Art of Song, in which Canada's best songwriters were invited to perform and discuss their material in an intimate environment.

In the early 2000s, Carole moved to West Hollywood, California, and continued recording new material ("Very slowly," as she puts it). In June, 2000, she bicycled the 575 miles (925 kilometers) from San Francisco to Los Angeles in seven days as a member of the California AIDS ride. Her autobiography, Anti Diva, published by Random House of Canada in 2000 and is available on-line from the Carole Pope Boutique.

In 2001, Pope made a guest appearance in the Toronto production of Eve Ensler's play The Vagina Monologues at the The New Yorker Theatre. She then reunited with Staples in March, 2001, for a mini Rough Trade tour of eastern Canada. In the summer of 2001, she left Los Angeles and moved to New York City.




Carole Pope and Kevan Staples are honoured at Canadian Music Week, Wednesday, March 7th, 2007, as they were inducted into the Indie Hall of Fame. As part of a stellar showcase, Rough Trade performed one of their signature tunes, "High School Confidential" to a packed house at the Docks.

After several years in New York, Carole in mainly based in Toronto and continues to tour in Canada. Kevan is a principal in Rhythm Division, an agency that "provides everything you could possibly want in the way of Sound Design for your film, TV series, documentary, animated short, webcast, pilot or even your demo."


---
1. Pope's exact birth date is shrouded in mystery. Staples calls it a "state secret," but this date is as close as any that I could verify.
---
Last Revision: December 2014
---
---
Joseph Levy lives in New York State (in the USA) and is an artist, record collector, and author of The Vinyl Tourist web site.
---
Sources:
Sierra Bacquie, Long Time No See--Whatever Happened To The Artists Of The '80s?, Onset Online, 1995
Ashley Collie, Rough Trade, Canadian Musician, April, 1983, pp. 34-35, 42-43
Rick Gratton, personal correspondence, 1999
Noah James, Torch Showcase (review), Toronto Star, July, 22, 1976
Bernard Jay, Not Simply Divine, Simon & Shuster, New York, 1993, pp. 76-85
Donna Lypchuk, The Best Of 1995, eye WEEKLY, December 21, 1995
Cindy McGlynn, DIVA! DIVA! DIVA!, eye WEEKLY, December 14, 1995
Maclean's, New Endeavor's For A Diva, January 22, 1996; Vol. 109, Issue 4, p. 56
Kathryn Mills, Rough Trade, Canadian Musician, April, 1981, pp. 26-27, 49
Harry Pearson, Rough Trade's Carole Pope: America, Bad and Beautiful, The Abso!ute Sound, Vol. 9, Number 33, April, 1984, pp. 83-90
Penthouse Magazine, Interview with Roger Waters, September, 1988
Carole Pope, personal correspondence, 1998-2000
Carole Pope, "Pompadours & Circumstance," Chapter 2 of Shakin' All Over, The Rock 'N' Roll Years In Canada, Peter Goddard and Philip Kamin, eds., McGraw-Hill Ryerson Limited (Toronto & Montreal), 1989, pp. 30, 32, 34
Kevan Staples, personal correspondence, 1997
---