Lord Buckley Hipsters,etc on 10-inch RCA
Item #259395109

Bidding is closed for this item.



(to seller)
(to bidder)

| | |
| --- | --- |
| If you are the seller or the high bidder - now what? | |

Currently
$513.79
First bid
$49.99
Quantity
1
# of bids
19 (bid history) (with emails)
Time left
Auction has ended.
Location
Southern Ontario
Country
Canada
Started
Feb-12-00 13:23:28 PST
(mail this auction to a friend)
Ends
Feb-19-00 13:23:28 PST
(request a gift alert)
Seller (Rating)
fortyork (57)
(view comments in seller's Feedback Profile) (view seller's other auctions) (ask seller a question)
High bid
paulpirate43 (72)
Payment
See item description for payment methods accepted
Shipping
Seller ships internationally (worldwide), See item description for shipping charges
Relist item
Seller: Didn't sell your item the first time? eBay will refund your relisting fee if it sells the second time around. Relist this item.
Seller assumes all responsibility for listing this item. You should contact the seller to resolve any questions before bidding. Auction currency is U.S. dollars ($) unless otherwise noted.
Lord Buckley: Hipsters, Flipsters and Finger Poppin' Daddies, Knock Me Your Lobes. RCA LPM 3246. U.S. pressing. 10-inch LP. Light marks and abrasions, but nothing is audible, with only occasional ticks; a remarkably clean-sounding copy of a classic party record (which rarely survive in such good condition). Cover has very light soiling, but otherwise, is in NM condition. All bids in U.S. dollars. Canada Post Air Mail plus insurance to the U.S. is US$7.00. Foreign shipping charges will be determined depending on destination. Please note that personal (uncertified) checks are held for 30 business days before your order is shipped, or use Money Order for quick shipping.
---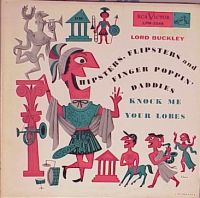 Bidding is closed for this item.
If you're the seller or the high bidder - now what?
Contact each other. The seller (fortyork) and the high bidder (paulpirate43) should contact each other within three business days to discuss payment and shipping details.
Leave feedback for the other party once the the seller has received the payment and the winning bidder has received the item.

Leave feedback to seller - Leave feedback to bidder.
Details for the seller and high bidder(s):
The seller should contact the winning bidder(s) with information on the total cost, including shipping, and where to send payment. The winning bidder(s) must pay the seller di"rect"ly for the item(s), and it is the seller's responsibility to fulfill the order when payment terms are met. The binding contract of the auction is between the winning bidder and the seller.

If the seller is unable to establish contact with the high bidder within 3 business days, the seller may contact the next highest bidder. Therefore, if the high bidder does not contact the seller within 3 business days of the end of the auction, he/she may lose the place as winning bidder, and be at risk for receiving negative feedback and/or a Non-Paying Bidder warning, both of which can ultimately lead to suspension from eBay.




---

Announcements | Register | SafeHarbour | Feedback Forum | About eBay

Copyright © 1995-2000 eBay Inc. All Rights Reserved.
Designated trademarks and brands are the property of their respective owners.
Use of this Web site constitutes acceptance of the eBay User Agreement